Product Description
In order to realize the goal of energy saving and new energy development, Shandong Hengyi Kaifeng has paid more attention to the development and improvement of wood charcoal making machine, whose working objective refers to making charcoal from wood or sawdust after a series of reactions. At the same time, due to its remarkable economic efficiency of low investment but high return, the wood carbonization technology has become an objective purpose for the most machinery manufacturers both at home and abroad.
How to make charcoal from wood?
Based on rich production and sales experience, Wood charcoal making machine has introduced the top-class technology of one fire with two steps, which can be said the domestic initiate. At the beginning of carbonization process, the size of wood should be reduced to 50mm or smaller by crusher machine, and then through the screw belt conveyor, the raw materials enter wood carbonization furnace for being heated by high temperature for 30 minutes; there will be combustible gas and charcoal generating in the furnace.

Both of the two materials will be further processed. Due to the high temperature of hot charcoal in the furnace, it is inappropriate to collected directly, thus we will utilize cooling system to reduce its temperature to 30℃, and then collect the carbonized wood charcoal directly; as for the combustible gas, at first, it will be purified by spay dedusting system to remove the sulphur components and then to extract the tar and wood vinegar by condenser system. After these steps, the combustible gas will be recycled to heat furnace or dryer by the draft fan, which has fully realized energy saving. This is the so-called one fire with two steps. The whole carbonization process can achieve the full utilization of resources without generating any pollution.
Charcoal Machine Equipment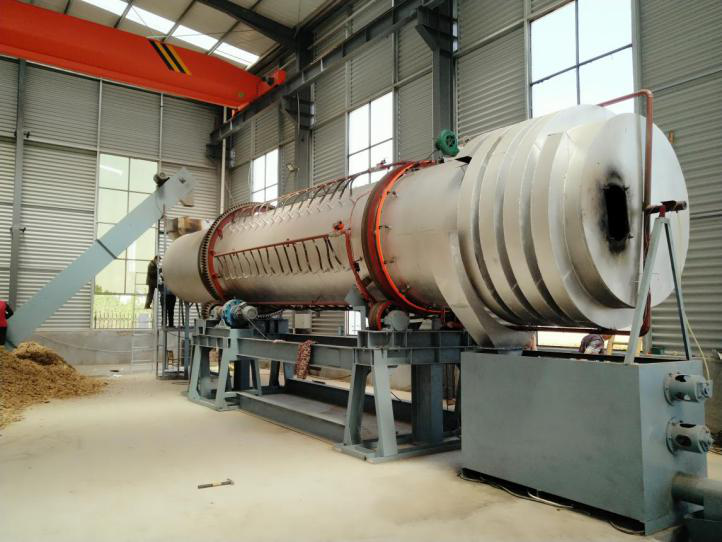 In addition, our company also sells Rotary Carbonization Furnace, SLEP Furnace , Activated Carbon Regeneration Furnace (external Heating) and matching flour mill grinding activated carbon production process, Activated carbon Dedusting Equipment, Activated carbon Crushing Equipment, Activated carbon Conveying Equipment, Activated carbon Drying Equipment.
Mobile Phone: +8613153736907 +8613153738637
Wechat:+8615864124409
Address: No. 024, Quan Fulu West, Surabaya County, Jining, Shandong
Country: China
If you have any questions, please contact with us directly. Welcome you can visit our Factory.For inquiry,Please send mail directly to us.