Product Description
Flour Machine Conveying Equipment
TLSS Series Screw Conveyer
The modular CA Trough Screw Conveyor system is highly versatile offering numerous solutions for conveying powdery or granular materials. They are widely used all over the world in industries such as pet food, plastics processing, soap, washing powder and detergent processing, animal feed milling, wood processing, chemicals, environmental technology, cement, lime and gypsum processing, as well as mining.
Explain:
It is a kind of fixed,sealed and continuous conveying equipment whose operating principle is driving the materials forward by utilizing the rotation of screw blade.It is featured with small covering area,satisfactory sealing performance,free of dust,low noise,simple structure,stable and reliable operation,etc.It can be installed on the ground or ceiling.Multiple feeding&discharge are allowed;besides,both horizontal conveying and small-angle inclined conveying are allowed.
Characteristics:
1.It is a kind of general equipment,with both horizontal conveying and inclined conveying allowed.
2.Packing auger blades with different thicknesses are adopted to meet different requirements for wear resistance.
3.Wear-resistant sliding bearing is hung in the middle.
4.Static balance verification is conducted after connection of packing auger and shaft.
Spec. & model

Output

(t/h)

Max. speed

(r/min)

Screw blade

diameter

(mm)

Screw pitch (mm)

Shaft power per meter (kw)

TLSS16

6

112

160

160

0.1

TLSS20

10

100

200

200

0.15

TLSS25

18

90

250

250

0.20

TLSS32

25

80

320

320

0.25

TLSS40

48

71

400

355

0.35

TLSS50

70

65

500

400

0.4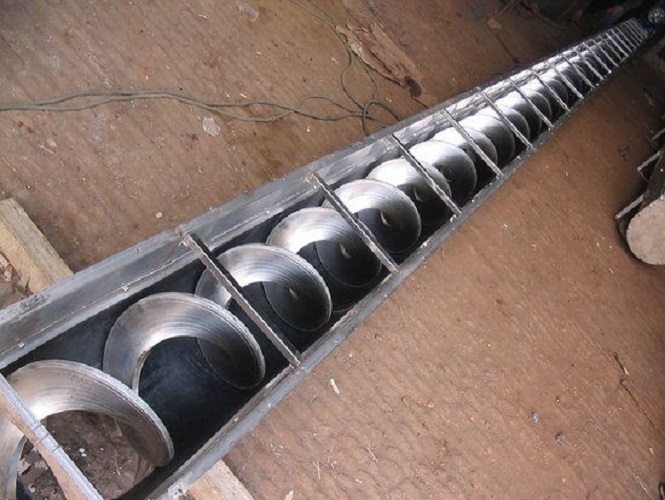 In addition, our company also sells Stone Mill Flour Machine, Large Flour Machine, as well as matching flour mill grinding process, Flour Machine Cleaning Equipment, Flour Machine Washing Equipment, Flour Machine Dedusting Equipment.
Mobile Phone: +8613153736907 +8613153738637
Wechat:+8615864124409
Address: No. 024, Quan Fulu West, Surabaya County, Jining, Shandong
Country: China
If you have any questions, please contact with us directly. Welcome you can visit our Factory.For inquiry,Please send mail directly to us.