Product Description
The 150-300ton/d wheat flour mill machine is a kind of multistory type flour mill plant. It consists of high square plansifter, pneumatic flour mill machine, purifier, etc. to realize advanced flour milling technology. It usually needs 4-6 storeys for installing the complete wheat flour plant. The whole plant is durable to use, easy to operate and maintain, and has high productivity and flour extraction rate. Therefore this wheat flour mill plant can be used to produce different grade wheat flour as well as special flour.
Cleaning part

: This 150-300ton/d wheat flour mill plant adopts the cleaning technology of 3 times of sieving, 2 times of threshing, 2 times of destoning, one time sifting, 2 times of dampening, 4 times of magnetic separation, one time of wheat brushing, and one time air draft cleaning. It is composed by raw wheat cleaning process and net grain cleaning process, which fully guarantees the quality of feeding wheat, as well as the working environment.

Flour milling part

: flour milling part adopts the milling technology of 5 bran milling, 8 core milling, 2 slag milling, 2 tail milling and 5 purifying, which has high accuracy and high flour extraction rate.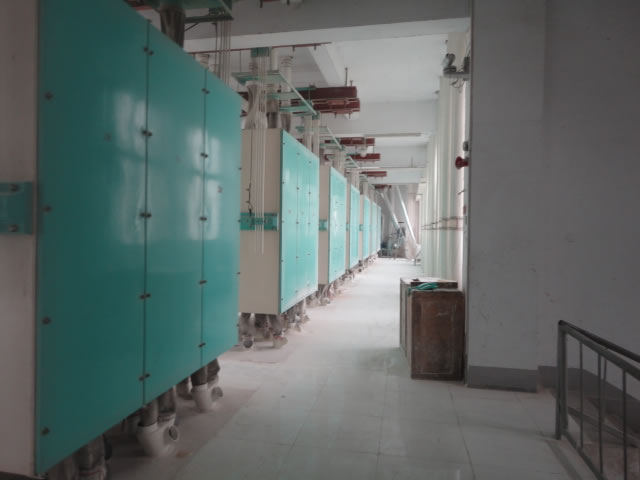 In addition, our company also sells Stone Mill Flour Machine, Small Flour Machine, as well as matching flour mill grinding process, Flour Machine Cleaning Equipment, Flour Machine Washing Equipment, Flour Machine Dedusting Equipment.
Mobile Phone: +8613153736907 +8613153738637
Wechat:+8615864124409
Address: No. 024, Quan Fulu West, Surabaya County, Jining, Shandong
Country: China
If you have any questions, please contact with us directly. Welcome you can visit our Factory.For inquiry,Please send mail directly to us.